The R&G Strategic team is proud to share that we have been featured as one of Canada's top design agencies!
Our mission at R&G is to provide fresh branding and marketing design for sustainable businesses. With the renewable energy industry expected to significantly grow in 2020, we are passionate about partnering with businesses that are at the forefront of renewables, cleantech, carbon reduction and applied innovation. We are proud that our market-research based, creative solutions have allowed us to be recognized as a top-performing design agency by Clutch.
Clutch is a B2B ratings and review platform for businesses to understand available services in the market when facing a business challenge. Reviews on Clutch are curated by analysts that examine a company's market presence, brand reputation, and most importantly, client reviews, to craft a comprehensive profile. Analysts conduct phone or online interviews to gather client testimonials and rank a company's performance based on its ability to meet deadlines, the quality of its service and deliverables, the cost value, and the client's willingness to refer the company. Companies such as R&G strategic are recognized in an awards series and featured in a directory of design experts.
Without our loyal clients, R&G Strategic would not have this opportunity. We are grateful for businesses such as FieldTurf that left a highly complimentary review on Clutch—praising our sustainability expertise, quality of work and ability to deliver on expectations. As you can see below, Field Turf gave us a perfect 5.0 rating!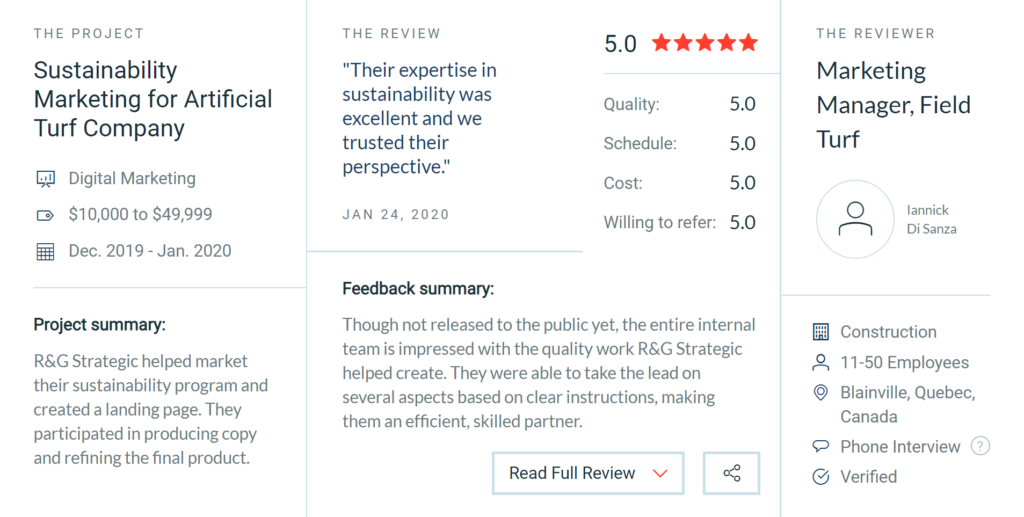 R&G Strategic also has a profile on Clutch's sister site, The Manifest, which works to illustrate our design talents in an article-based presentation. Similarly, high-performing Canadian agencies are ranked on the affiliate site, Visual Objects, where you can also find a R&G's design portfolio.
We are happy to work with clients that share the same passion in benefiting society while growing their business. It is a privilege to be ranked among high performing agencies. In the words of our co-founder:
---
If you are interested in working with a creative set of sustainable thinkers, we would love to hear from you!