At R&G Strategic, we transform brands into catalysts for positive change.
We're a full-service branding, marketing, and communications consultancy that works exclusively with sustainable brands. We help our partners engage with their audience and succeed in the global marketplace. Our team is focused on leveraging creativity and strategic thinking to build brands that make the world a better place.
Clutch is the leading B2B reviews and ratings website. Headquartered in Washington, DC., they aim to connect businesses with the best agencies for their B2B needs. Their team of analysts collects clients' feedback, analyzes industry data, and compares competitors in the market to provide entrepreneurs and managers with the information they need.
Here are two examples of reviews we've received on Clutch for our market research and sustainability reporting projects that demonstrate our expertise as a sustainable brand agency.
NFT Market Research
The first review came from a Vancouver-based independent music label. They hired us to conduct market research about the environmental impact of their upcoming NFT campaign. First, we studied the NFT market and evaluated carbon emission data from environmental agencies. After that, we created a report that allowed the client to identify their projects' carbon emissions by simply inputting data points.
The client was delighted with our work, which provided them with the necessary scientific information to properly make decisions. They praised the quality of our deliverables and our communication process. Ultimately, they were impressed with our dedication to the project.
"The R&G team seemed eager to contribute to our company's overall missions and suggest ideas that were out of the box and from a different perspective," said the live programming head of the independent music label. "Our team also found the depth of research and knowledge that R&G provided on a fairly new and explorative market very helpful and forward-thinking."
Due to the success of our partnership, the client gave us a 4.5-star overall rating!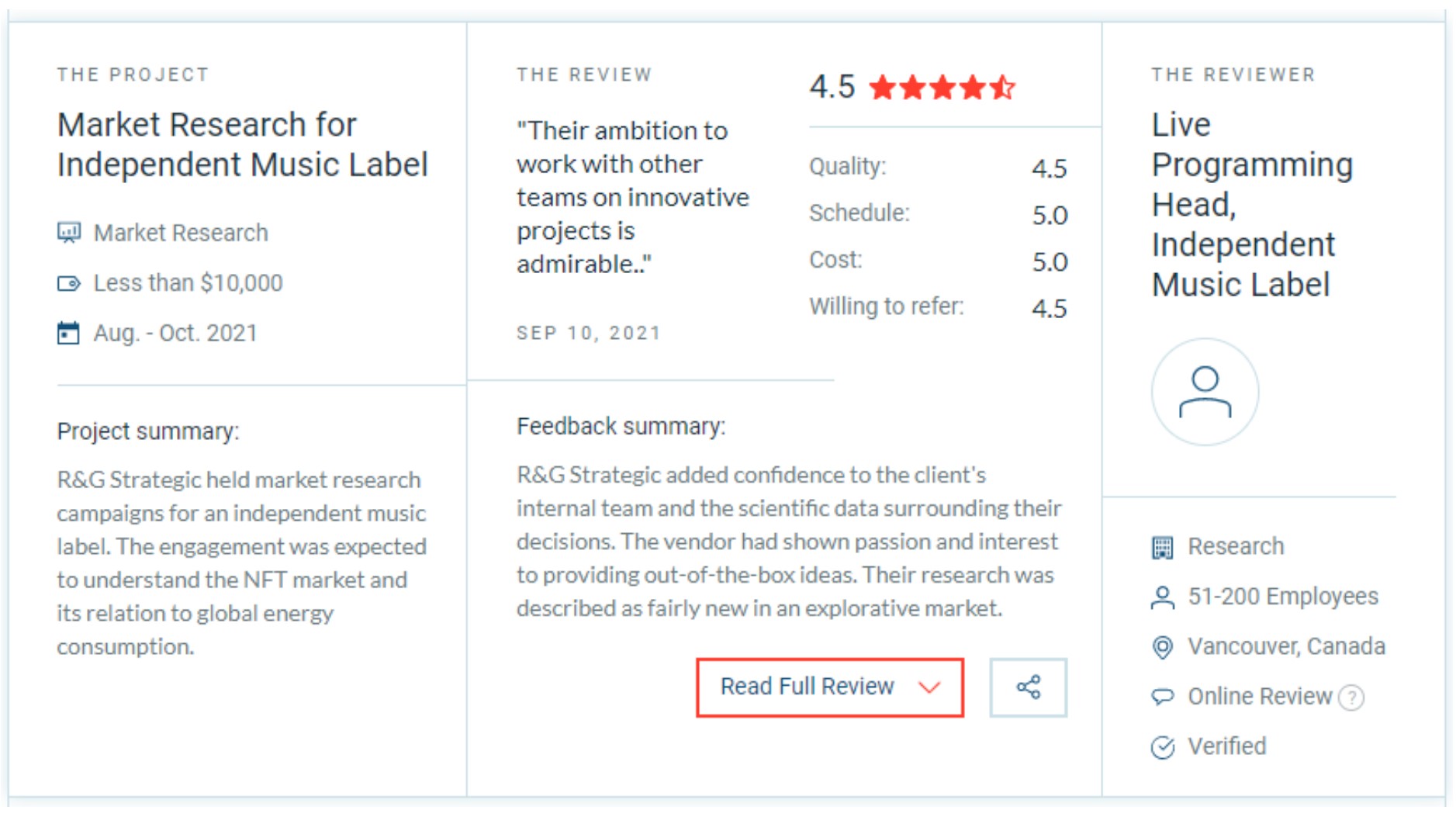 Sustainability Reporting
We also received a review from a mining and metals company. After being referred to the client, they hired us to support their first investor-facing sustainability and ESG (environmental, social, and governance) update.
Initially, we had a kickoff meeting, and the client provided us with a draft of their report. We implemented technical improvements into their draft and converted it to the proper format. We presented the draft to the client, and they gave us feedback, which we implemented. After a few iterations, we arrived at a finished product that was uploaded to the client's website.
Our work satisfied stakeholders and generated internal discussions, meeting the client's goals. They commended our project management and communication skills. They were impressed with the quality of our work, which didn't require numerous edits.
The client gave us an overall rating of 4.5 stars!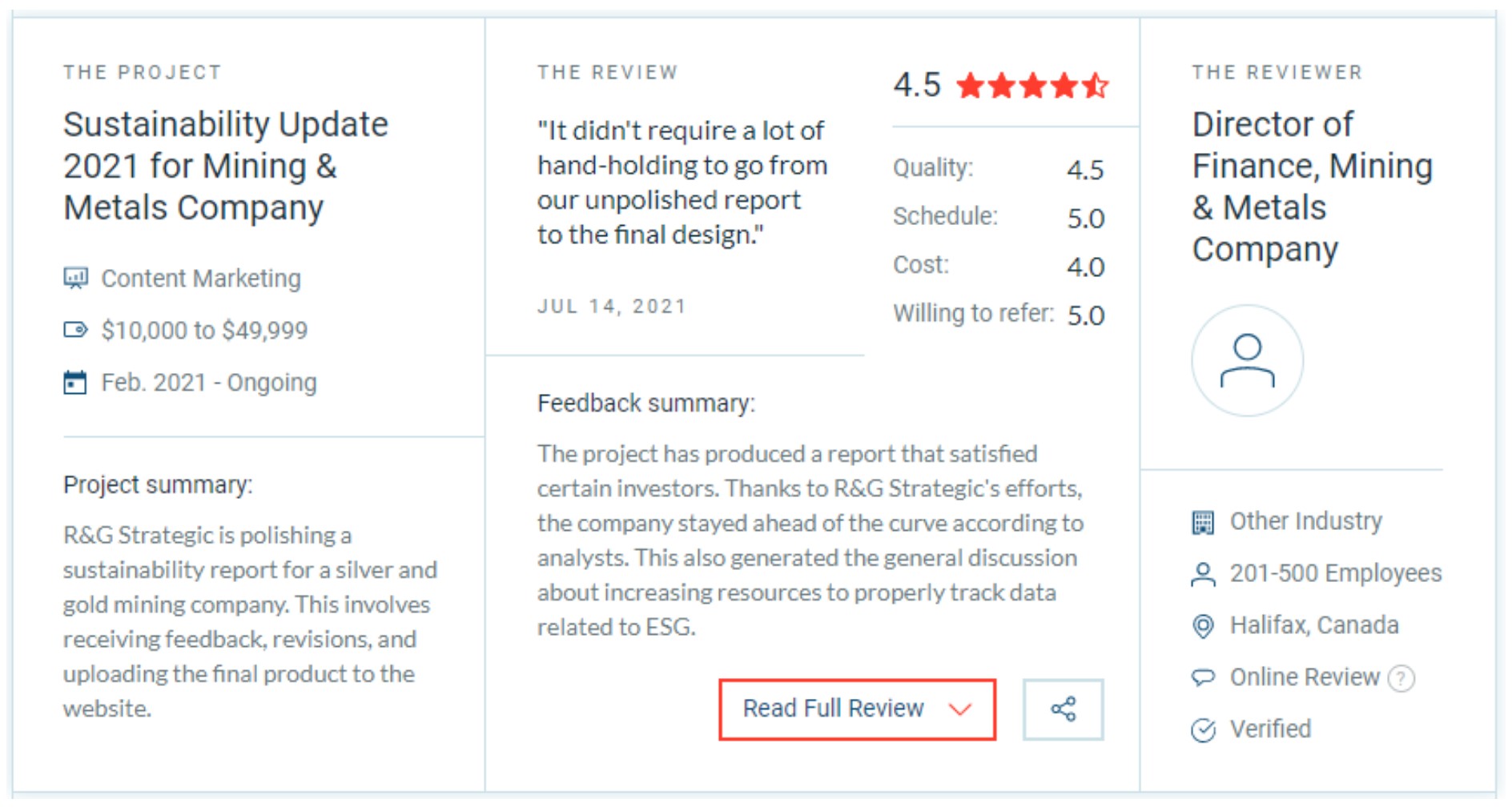 By the way, we're also listed on Top Design Firms as a Most Recommended Branding Agency in Canada! From the B2B experts behind Clutch, Top Design Firms is a new research resource in the B2B space. They compile and organize the best companies that offer marketing, design, and development services.
We thank our clients who took the time to give us a review. We appreciate their thoughtful and honest comments about our work. Moreover, their positive feedback only proves our excellence in branding, marketing, and communications.
G
enerate excitement for your progress and positive impact through CSR and sustainability reporting and communications design!